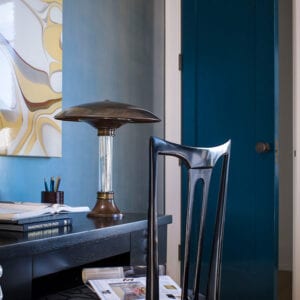 With the right prep – and the right products – repainting an interior door is an easy DIY project that will instantly refresh any room.
What you will need:
Paint: Advance
Supplies:  Sanding block, hammer, nail, screwdriver, brushes, painter's tape, a pan and a smaller size roller and a sponge.
Instructions: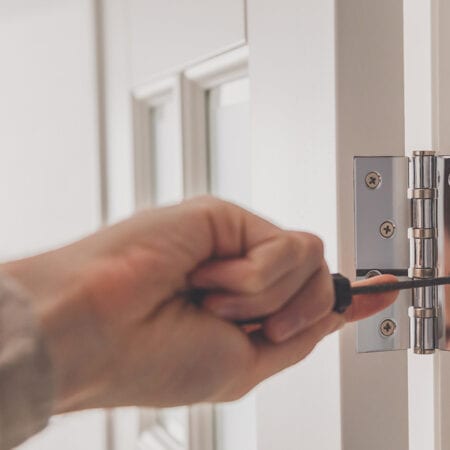 Step 1) Remove the door. Using the hammer and nail, tap the hinge pins out. Place the door on a stable, elevated workstation like two sawhorses. If painting doors still hung, use a drop cloth under the door or a large piece of cardboard to catch splatters from vertical rolling.
Step 2) Remove the door handle and hardware or use painter's tape to isolate the handle and hardware. Use your screwdriver to remove it. If the door is still hung, mask off hinges and knobs prior to painting.
Step 3) Clean and the door and lightly scuff the surface with your sanding block. If doors are scuffed or appear to have grease on them from hinges or fingerprints, degrease with mild dish soap and warm water or a TSP solution. Be sure to rinse with a damp clean cloth and allow to dry well before painting. With your sanding block, scuff the surface to help with the adhesion of paint. Clean thoroughly and dry.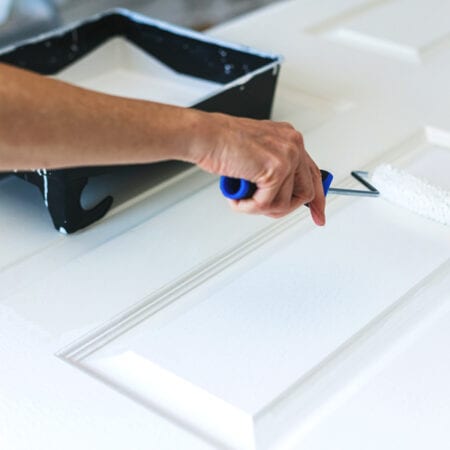 Step 4) Begin painting. Start by painting the edge nearest the hinges. With a panel door, paint the inside of the panels first making sure that paint does not pool or run in the corners.  A brush will work best for the grooves while a roller will give a flawless finish to the flat sections.
Step 5) Lightly sand your first coat. This will remove any imperfections like drip lines you may have missed. Clean thoroughly and dry.
Step 6) Apply your second coat. Let dry thoroughly.
Step 7) Replace hardware and door handle.
Step 8) Reinstall the door.
View the Paint Shop's most popular colours for doors.
Have more questions about a DIY project? Visit the Ask Dave section of our website and get the answers you need!