Feel like you're in over your head with painting a ceiling? Don't worry. Our paint shop experts have put together a handy step-by step guide for ceiling success.
Have your room fully prepped and ready to paint before starting.
Prepping the ceiling should involve at least dusting/Swiffering the entire ceiling surface. This is important as ceilings are generally not cleaned as much as walls or trims. Dust, cobwebs and general surface grime exists that you probably didn't notice. Paint will adhere poorly to a dusty ceiling.
Prepare any cracks or holes with spackling or drywall compound and sand flush before using latex Gyproc primer.
Removing ceiling fixtures will make the job easier, but be sure to turn off power to the fixtures before removing.
Cover the floor and any larger furniture with drop cloths or plastic film to avoid splatter, which is inevitable with ceiling paint jobs. If there is a risk of the drop cloth or plastic moving from a surface, tape it down to baseboards or to edges or floor with painter's tape.
If you are only painting the ceiling in a room, mask off the tops of the walls or the crown molding with no less than a 2" painter's tape to keep roller marks off the walls.
Keep the room cool. Around 15 degrees Celsius is good. In a warm room, paint dries quicker. The general rule of thumb is that any room you paint, especially ceilings, you should have the heat turned down at least an hour before painting begins and the air temperature should feel cool!
The ceiling is considered the "fifth wall" of your room, so when painting, apply the same care you would bring to any other paint job.
Choose the right paint for the job.
Always use ceiling paint as opposed to wall paint; it's flatter in sheen and reflects less light, thus showing less imperfections.
Consider colour options. A standard white ceiling paint will certainly brighten a room, but a coloured ceiling may make the room more dramatic, cozier or even bigger. Speak to a Paint Shop colour expert to help decide what suits your room best.
Clean and prime.
 Prep water and mildew stains with appropriate oil based/shellac-based or alcohol-based primers. Speak to your friendly Paint Shop expert to determine which Benjamin Moore primer is the best solution.
 Ensure any water or mildew stains have been investigated and solved so that your painting project doesn't fail. Just covering up an ongoing wetness or mildew issue will cause you problems before too long again!
Choose the right roller for the job.
For ceilings, use a heavier nap roller, in 15mm range. This will allow you to work quicker by spreading more paint and the heavier roller by applying more paint, keeps a wet edge, longer. This will help avoid potential  roller lap marks.
Use an extension pole to move your roller longer distances, again allowing you to work quicker. Don't roll directly over your head, roll outwards from your body position, as it will be easier on your neck and less splatter coming directly down on top of you and less pressure on your roller, helping to avoid roller pressure marks.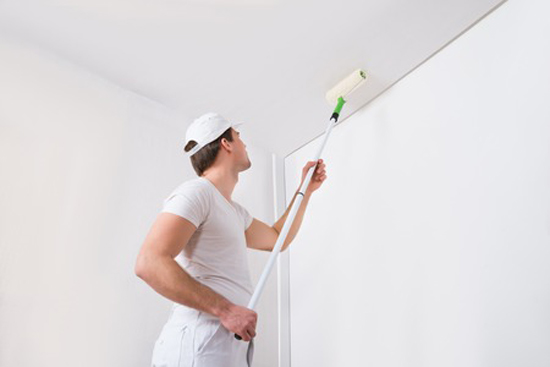 Start painting!
When painting an entire room, begin with ceiling, then trim and then the walls. If the walls will be painted after the ceiling, taping the wall edge will not be necessary.
Do your ceiling edges first with a good quality angled 2" or 2.5" brush.
Work quickly to get good results. You don't want the paint to dry, and by its chemical nature, flat ceiling paint tends to dry quickly. Working quickly will help to avoid roller lines on the ceiling.
Paint the entire room's ceiling in one uninterrupted session – don't stop halfway for a break or you run the risk of dry roller marks showing as the edge where you stopped and the new start-up roller marks won't blend completely.
On the second/final coat, paint toward the windows where most of the light enters the room. This will help make any paint lines from the roller less visible. Generally, roll in one direction for first coat and the opposite direction on second coat.
Still have questions? To see a video on ceiling painting tips from Benjamin Moore, subscribe to our YouTube channel YouTube.com/PaintShopNL and go to the How-To playlist.
 Happy painting!