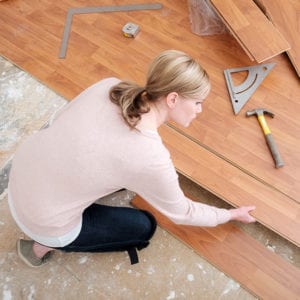 No glue. No mess. The snap-lock systems of today's laminate flooring make it an easy one-day or weekend project.
If you're a beginning DIYer wondering how to install laminate flooring, or someone who remembers older laminate flooring that required gluing, the ease of current laminate products might surprise you. Consult any 'how to' guide on installing laminate flooring and you'll find it's a snap – snap lock, that is. Like a jigsaw, the pieces are already constructed to fit snugly together without glue or adhesive. However, like any DIY project, proper preparation is key and will save time and effort later on.
'How to' tools and essentials
Pencil
Measuring tape
T-square (Or reliable straight-edge tool)
Saw (Circular or table saw)
Underlay (See the underlay guide at bottom*)
Laminate Flooring (Buy more than the measure of your room to account for cutting)
Rubber mallet (Optional)
Wooden spacers (Available from your Paint Shop flooring expert)
Steps to flooring success
Prepare your floor. Remove molding from walls. Clean and dry the space you're planning to cover. Underlay will even out most floor imperfections, but large uneven spots might require a leveling compound. Your Paint Shop expert can advise you on this.
Roll out your underlay for the space. Place the underlay edge to edge and avoid bunching or overlapping. Tape or secure the edges together with the product recommended by your Paint Shop expert.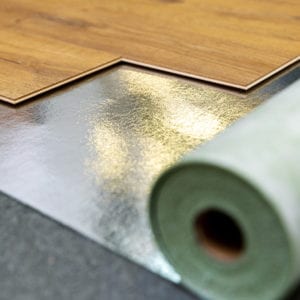 Lay your first row on laminate against a wall. Start by cutting the off the notch on the edge of the boards that will sit closest to the wall. Assemble the row with spacers leaving 1/4" to 3/8" between the boards and the wall. As laminate floors are 'floating', this room needs to be left for expansion.
Assemble your second row, cutting to desired length. Your product's snap-lock system should be described with the flooring package. Cut lengths so each end of the boards is staggered from the next. A rubber mallet can be used to gently tap boards in place and not leaving gaps.
Add rows until you reach the last row. Cut the last row to size, using spacers to leave the needed space between the wall. Cover your finished flooring with moldings.
Still have questions?
Visit a Paint Shop near you. Our in-house flooring experts can advise on how to install laminate flooring or, depending on the store, do the install as well!
More great Paint Shop laminate flooring resources:
Read all the latest Laminate Flooring Trends for 2020
See our full selection of Ready Ship laminate flooring.
Find out about AC ratings and why you should know about them when shopping for flooring.
Learn about why you should use an underpad.
Check out the latest paint Shop flooring deals.
Bonus info: What is the best underlay for laminate?
Maintain your flooring's long-term durability by starting with the right product for the job.
Laminate Foam Pad Basic
Ideal for basic subfloor installation
Laminate Foam Pad Foil
100% waterproof, with anti-mould and mildew protection
Foil reflects heat for warmer floors and acts as a sound barrier
Black Jack Laminate Underlay
Install anywhere, including concrete floors, for mould and moisture protection
Superior sound reduction
Anti-crush technology for long-lasting comfort, shock absorption and product life