Exterior Stain in Endless Colour Possibilities
Have you ever felt like your front step or your back deck falls short of reflecting your personality or the overall style of your home? You shouldn't feel limited to the typical black, brown and beige stain. Let your true colours shine through and have your house stand out from the crowd with Ultra Spec Exterior Acrylic Solid Colour Stain.
Go Bold or Stick with the Standards
Ultra Spec Exterior Stain is tintable in any of the 3500+ Benjamin Moore colours, so if you want Passion Plum 2073-30 on your patio or Frosty Lime 2029-70 on your front step, it is totally possible. And of course, if your preference is to follow the style trends instead, we still have a fantastic selection of blacks, browns, greys and beiges to choose from.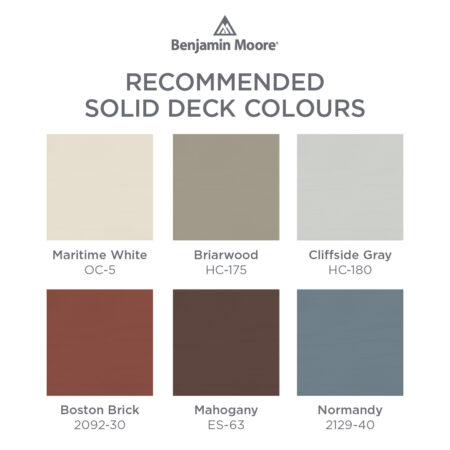 We're Here for You
No matter what hue you prefer, you can stain with confidence knowing that Benjamin Moore's Gennex® colourant offers excellent hiding and adhesion, superior colour retention, and is resistant to peeling, cracking, and new mildew formation.
Stop into your local Benjamin Moore Paint Shop to get help in letting your true colours shine through with Ultra Spec Solid Exterior Stain.