Despite the opinion of a certain famous frog, green doesn't have to be hard. When it comes to painting your home, using different shades of green can add a fresh, natural and inviting vibe to any room. From mint green to forest green, the possibilities are endless.
Why Benjamin Moore Green Colours?
Often associated with feelings of calmness, relaxation, and balance, green promotes a sense of harmony and growth, and is often linked to nature and the environment. It can also enhance concentration and creativity, making it great for an office or study.
How Benjamin Moore Green Colours Fit in Your Home
Green brings a sense of freshness and vitality to any room, whether it's used in accents or as a dominant colour. It's a versatile and calming colour that can transform any space into a serene and refreshing oasis. Whether you choose to go bold with a green accent wall or opt for a more subtle approach with green accessories or trim, this versatile colour is sure to bring life and energy to your home. So, let's embrace the power of green and add a little pop of freshness to our spaces!
Top Green Paint Picks
Take a look at some of the more popular Benjamin Moore choices for green as identified by our in-house colour experts and from Benjamin Moore.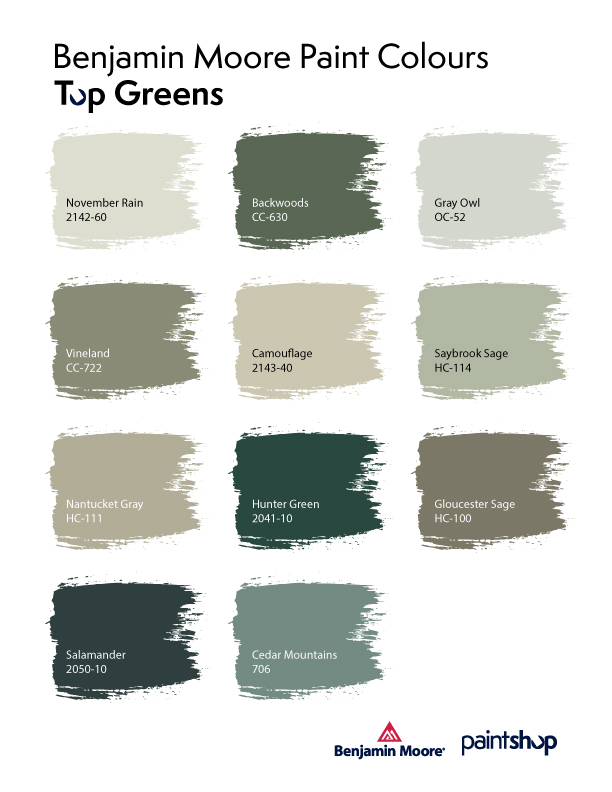 Please note, digital colour representations may vary. Please be sure to consult an actual paint chip for colour accuracy, and view it at home in natural daylight and nighttime artificial light. Sample pints also available!
Benjamin Moore Paint Colours - Top Greens