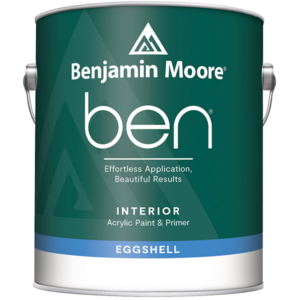 Have you met ben®?
If you name something after yourself, you must really believe in it! Benjamin Moore is known the world over as a top-quality paint brand and they're not about to tarnish that name by putting it on an inferior product.
The newly-formulated ben® interior paint is the perfect solution for homeowners who are ready to take their painting projects to the next level without breaking the bank. The new formula has been enhanced to deliver beautiful results with an effortless painting experience – it's easy to apply, touch up, and maintain thanks to added scuff resistance. With a sleek new look and feel, it's okay to judge this book by its cover!
ben® by Benjamin Moore is still a great option for contractors and DIY'ers alike who are looking for Benjamin Moore quality that's within their budget.
ben, the Over Achiever
How does ben® punch so far above its weight?
That's easy! ben® contains the same colourant that goes into our premium Regal and Aura lines. It's also user-friendly because it's a paint and primer in one. This means it requires fewer coats, therefore saving you time and money.
No need to break the bank when you can bank on ben®!
QUESTIONS? Stop by your local Paint Shop.