The Versatile Appeal of Dual Shades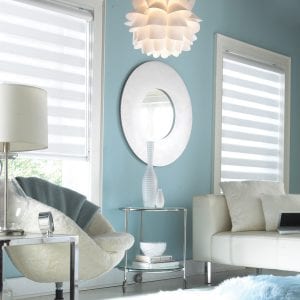 Need a multi-functional and elegant solution for a room's privacy and light control? Dual shades are an appealing way to update a room's décor while also creating varied options for sun and shade.
Combining the features of a Venetian blind and a roller shade, dual shades are an elegant fabric window covering that give you both light-filtering and décor options for any room.
The alternating fabric bands of a dual shade can be adjusted to overlap or open, allowing you control over light-filtering and privacy options.
Reasons dual shades might be right for you:
An Ideal Covering for Large Windows:
As a modern window covering style, dual shades offer light-weight fabric options that are easy to adjust in height. Operating dual shades is smooth and simple, no matter the size of the shade or window.
An Incredible Variety of Fabrics, Patterns and Textures:
Whatever the design scheme of the room, dual shades offer numerous choices for band heights, colours, textures and patterns.
Top Treatment
Dual shades can be completely raised with ease and are contained in the cassette headrail for maximum window exposure. The sleek design of the dual shade cassette takes up only about 3-3.5" of space at the top of your window.
As with any window treatment, a balance of function and fashion are always considerations. Dual shades give you a great range of both – sleek, elegant operation and a range of fabric styles and options to match any taste.
Watch this video for information on how to measure and install dual shades.
For a complete overview of the window options available at the Paint Shop, visit our Blinds and Shades section.
---
Have more questions about dual shades or other window treatment options? Schedule a FREE Paint Shop decorator consult and chat via phone, email or video call.
Visit our Paint Shop decorators' pages here to view the style and portfolio of each of our featured decorators.