There are two main factors to consider first when choosing among stain options and opacities: the wood being stained and the whereabouts of the piece being stained.
The Wood
The same stain can appear differently on different projects, depending on the type and condition of the wood being stained. So it's important to recognize what you're working with.
What type? Most exterior deck work is pressure treated wood, so remember this when browsing any stain samples shown on pine or cedar, as the results will vary.
What condition? The age and condition of your deck will be considerations when choosing your stain's opacity – or level of "see-through-ness". Opacity can range from clear (see-through) to solid (opaque), to many shades in between. This is where you choose how much of the natural wood grain shows through. If the wood is in good condition, you'll want to show off the natural wood grain with a translucent or transparent. If the wood is old and in rough shape, a solid stain may be more of a practical choice to hide blemishes.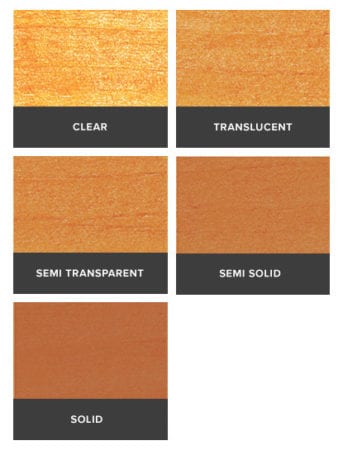 Pro Tip: Pigment is Protection 
While a clear stain will help prevent long term decay, the wood is still vulnerable to greying and fading from UV exposure. Colour pigment will help minimize this process.
"My deck is grey and weathered. Can I still stain it?"
Of course! You'll just need to pay extra attention to the prepwork though to make sure all dead wood fibres are removed and your surface is sound and ready to absorb the stain. Once you've given it a thorough clean, you might even change your mind on the stain colour!
The prep step is important no matter the age or condition.
"I have a brand new deck! Can I stain right away?"
The short answer is: not exactly.
Reason #1 Usually pressure treated wood from a lumber yard is still wet, so it's important to give this wood enough time to dry throughout. While it was common at one point to have to wait up to a year, 30 days is the current recommendation.
Reason #2 New wood has what's known as "mill glaze" which will prevent stain from penetrating properly. You can sand the surface with 80 grit sandpaper to remove this, or rinse with a cleaner such as Benjamin Moore's Brighten and lightly sand before staining.
The Where
Where the stained wood is located is also important when choosing stain types.
Raised Deck? If your deck is elevated off the ground, a water-based exterior stain can be sufficient, to combat over-exposure to UV rays which can cause fading and discolouration of the deckboards.
Ground Level? If you deck built low to the ground, it is more susceptible to moisture which can seeping up through and cause decay. An alkyd (or oil-based) exterior stain formula will be your best bet against this constant threat.
Arborcoat Exterior Stain