Glamour camping. Is there really such a thing? Yes! All you need are a couple of personal, unexpected touches to customize a space for one weekend or all year, at a campsite, in the backyard, or under the couch cushions. (Tip #1: Watch the forecast, and be ready to bring the party inside!)
#1 Lush Layers
Furry throws, toss cushions, and a few favourite plushies can visually (and literally) warm up a space. Bring fresh sheets and fuzzy blankets to quickly elevate a sleeping bag to master bed.
#2 New Colours
Musty wood fixtures of vintage campers don't have to stay that way. As we always say, a coat of paint can change anything. The DIY Mommy's clever upgrade above made the cabinets a two-tone palette. A neutral white on the upper cabinets washes away the clutter and opens up the room to the view, while a dark navy anchors the kitchen and brings the unexpected. To get The DIY Mommy look, pictured above try Advance Kitchen Cabinet Paint in Simply White (OC-117) and Hale Navy (HC-154). Browse more bold cabinet colours here.
#3 Peel & Stick Patterns – Wallpaper or Tile
Products like Peel & Stick Wallpaper are a commitment-free design element to install once and forever, or change your mind with your family or your mood. You can also bring your camper kitchen into the millennium with a touch of modern in a Peel & Stick Backsplash Tile.
#4 Smart Flooring
#4 Smart Flooring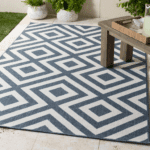 Waterproof, wood-look floor planks are a perfect replacement for outdated camper linoleum. Vinyl planks and tiles are DIY-friendly with tongue and groove installation, click lock installation
Rugs too, can be a inexpensive addition, for warmth and comfort, in a camper or tent. Welcome the neighbours in with a doormat at a minimum, or cuddle up inside a tent on a warm indoor/outdoor area rug.
#5 Statement Pieces – Furniture & Art
Haul out the musty camper upholstery and bring in new functional pieces that make a statement. Consider stripping back to the walls to give yourself a new blank canvas to work in. This is a great way to introduce new colour as well. Hanging artwork on the wall will also make the space feel just like home.
#6 Shade Upgrade
Curtains are cute, and can be another way to add warmth and personality to a camper trailer. But don't forget about actual blinds, which can completely transform a space, with the added benefit of UV-blocking shade fabrics to protect your decor from fading.
Real Life Looks to Inspire