Christmas is a great time for creating memories and spending time with family. You can do both at once by making ornaments with the kids. Whether you're hanging them on the tree right away or wrapping them up as gifts, these easy crafts will bring happiness and joy to all.
We've collected these crafts in a Pinterest board for you to easily find again. While you're there, give us a follow.
Now, let's get crafty.
Pour painted ornaments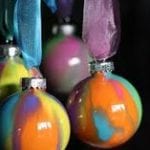 Pour painting is both simple and complicated at the same time – but we're only dealing with the simple part. For a look at some of the amazing art being done, and a ton of tutorials on how to do it, search "pour painting" on YouTube.
This craft project was found on the Happy Hooligans blog, which has a full step by step tutorial of how to create pour paint ornaments. The short version is pour a bit of paint into the ornament, swirl it around, then pour out the paint. To really understand how to do it, head over to the Happy Hooligans blog for the full tutorial.
This one isn't ideal for very young kids, as you need some finesse to get the swirl look right. It would, however, be ideal for middle schoolers.
Paint Brush Santa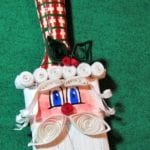 Have you ever left a paintbrush full of paint? Don't worry, you didn't waste a brush. You started a craft! Making these cute Santa paint brushes starts with dipping the brush in white paint and letting it dry. Suzy, of Suzy's Sitcom blog, gets quite creative and crafty with her Santa, but yours doesn't have to be that involved. Once the white beard of bristles is dry, you need to add a face and paint the handle into a hat and…well, that's about it. Here's how Suzy did it.
Paint Chip Christmas Tree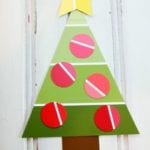 While you're at the Paint Shop buying supplies for craft day, stop by the paint colour display wall and pick out some paint chips in green, red, and brown. Cut the green into triangles, the brown into a stubby rectangle, and the red into circles. Assemble into a tree shape, add the circles for ornaments and glue it all together. This is a great one for the younger kids and it's fun for adults, too.
The bloggers at Housing A Forest have a great step-by-step tutorial that walks you through the whole process.
Popsicle Stick Christmas Tree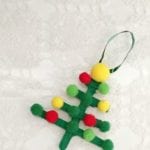 Here's another one for the youngest kids that comes to us at the suggestion of our favourite elementary school teacher. This one uses some crafting staples: popsicle sticks and pom poms. Paint the sticks green, arrange into a tree shape, and glue on some pom poms – it's easy, fun, and will be well received by anyone your little youngster decides to gift it to. The Mommy Moment blog has a full explanation of how to make this classic craft.