There's nothing quite as welcoming as a deck chair, except that same deck chair in a bright, cheerful colour (with a cold drink dripping in the cupholder). Get the look. Then make the lemonade!
First question: Is your lawn furniture wood or plastic?
If you have a plastic or metal lawn chair, your job just got a whole lot easier. Grab a can of Krylon Spray Paint in your favourite colour,  and let loose (outdoors please, or at least a well ventilated area.) Give your furniture a quick wipe with TSP before hand, to ensure a clean surface the paint can stick to. With "bright and cheery" as the only rule, any colour that inspires you will do!
If you're working with wooden lawn furniture, we recommend a couple of extra prep steps for best results, once and forever.
#1 Prep Properly
Clean Wood Fibres
Make certain that the wood is absolutely dry and free of mould and mildew. Be sure to check the undersides, too.
If the wood is new-ish, Benjamin Moore's Clean should do the trick. If the old finish is in fairly good condition, it may be enough to just roughen the surface with a coarse-grade sandpaper, working with the grain. (If you have an orbital hand sander, that is the perfect tool for this job.)
If your lawn chair has been painted or stained already, try Benjamin Moore's Remove, to strip all the old finish down to the bare wood.
If the chair has been left uncoated in the sun for a while, you can use Benjamin Moore's Restore to clean off the dead wood fibres for a fresh new starting surface. You can pick these cleaners up at your local Paint Shop. (You'll want to do this outdoors or in a well-ventilated area as well)
Be sure to completely rinse the furniture and allow it to completely dry before applying paint or stain.
To Prime or Not to Prime?
If you're going to apply a lighter colour over a dark one, if there are knotty sections, or if any stains remain, you can use a good primer formulated for outdoor use, such as Benjamin Moore's Fresh Start All-Purpose Acrylic Primer. Brush on the primer with a quality poly/nylon brush, working with the grain.
 #2. Add Colour
For a solid painted look, we recommend an exterior paint such as Aura. It's proprietary ColourLockTM technology ensures a rich and lasting finish, and it's tintable in any Benjamin Moore colour.
If your furniture will spend its summer days on a lawn (versus a deck), you may wish to consider a finish for extra protection from moisture seeping up from the ground. Try the Classic Oil Finish in Arborcoat Deck and Siding Stain. The alkyd (oil-based) formula is available in pre-selected semi-transparent and semi-solid colours – if you struggle with too much choice – but it can be tinted in any Benjamin Moore colour.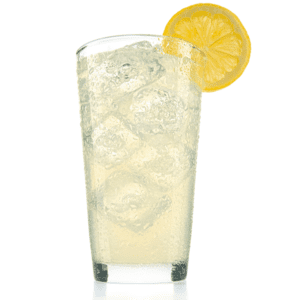 #3 Put Drinks on Ice
Let the furniture dry in a clean, dust-free, well-ventilated area. Don't leave it outside to dry, as wind and air will deposit dust and particles onto the wet surface.
Once the furniture is dry, you're all set. Time to sip in the sun – and work on your colour instead!