AC4 Durability Rating Meets Style
There's a lot to love about Nobel laminate. Fashioned with authentic grain texture, Nobel looks and feels like classic natural woods. Nobel is also backed by a 30-year residential warranty and features a Drop Lock system for easy DIY installation. But, it's Nobel's AC4 rating that makes it a true standout among other value-priced laminates.
What exactly is an AC4 rating, you ask?
An AC rating is a universal measure of laminate flooring durability, created by the European Producers of Laminate Flooring. Ratings go from AC1 to AC5, with an AC5 meant for the heaviest of commercial traffic. An AC1 would not be recommended for general residential use and is only suited to a non-traffic area like a closet.
When considering laminate flooring cost, AC rating should be your top point of consideration. While a higher AC rating might mean a more expensive laminate, that higher rating also means a longer-lasting floor.
When it comes to laminate flooring and AC rating, each increase in AC rating provides 60% more durability: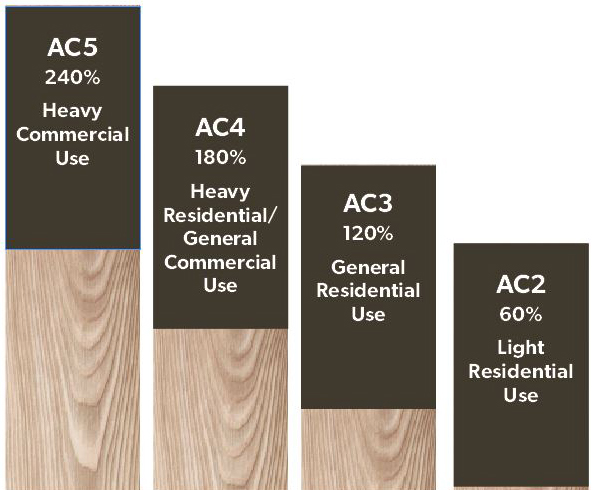 If you're planning for a long-lasting laminate flooring in a high-traffic area such as a hallway, Nobel laminate is the way to go. And with Nobel, you don't have to sacrifice style for improved durability. With a fashionable plank size that is wider than most laminates and a complete range of styles and colours of authentic wood grain texture, there's a Nobel laminate for any design palette.
In the long-term, the location and expected lifetime of your flooring should influence your decision. Ask yourself: Will that great-looking floor still look great in 5, 10 or 20 years? With Nobel laminate, an AC4 rating give you peace-of-mind that you're making the right choice.
Need help deciding on the right style of laminate for your home? Schedule a FREE consult with a Paint Shop decorator.
Looking for advice on DIY laminate installation? Read our how-to blog or chat with a Paint Shop flooring expert.