Let's talk about floors. Chances are, you've got some sort of wood or wood-looking flooring, be it hardwood, laminate, or a vinyl tile. And, unless you have in-floor heating, chances are you find it a bit cold on the feet in the winter months. You need a rug. Rugs are wonderful for defining a space and anchoring a room, and something patterned can add that extra layer of color and texture.
Defining a space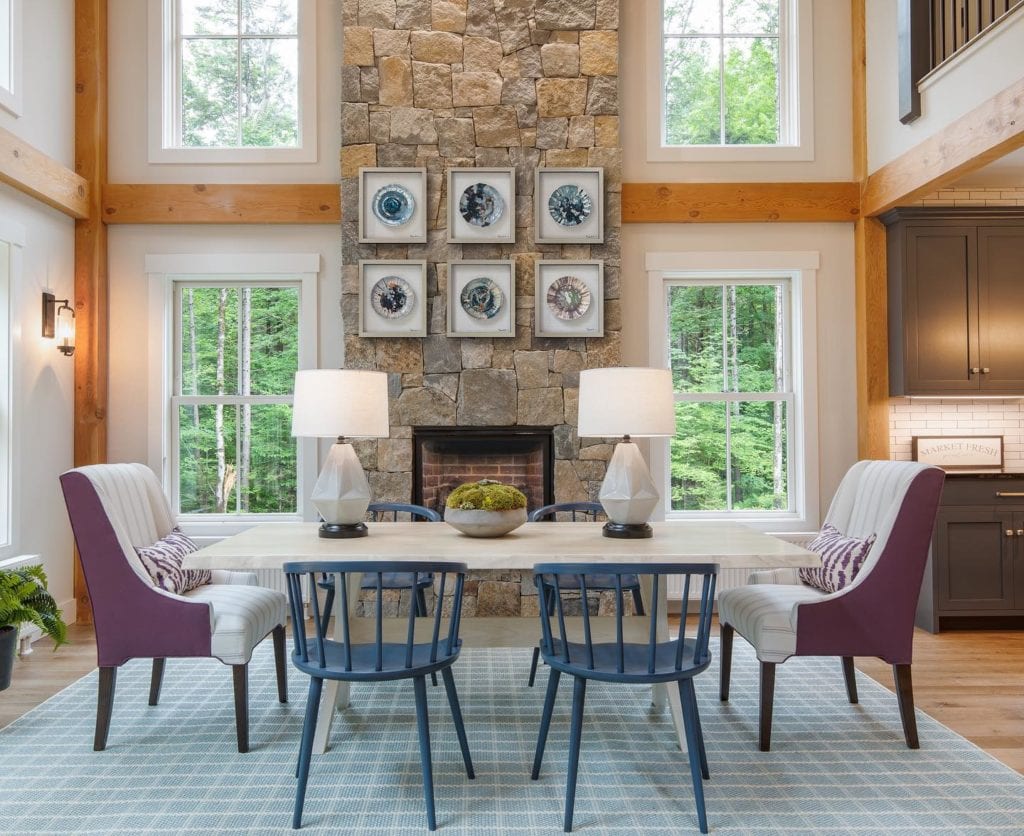 How do you create a sense of coziness in an open concept space? One way is to use a rug to define the space. If, for instance, the kitchen, dining room, and living room are all one open space, a rug placed under the dining table could help define the space. This also helps to avoid that floating-in-space look that can happen when furniture is placed in a large space. And there's an added benefit – the rug will help protect your floor from chairs.
When choosing a rug for your dining area, size it so that you have about two feet of rug on each side of the table. This will give you enough room to pull out a chair, and will avoid your rug from looking undersized.
In the "living room" of an open concept home – the part of the house with the couch and TV, let's say – you'll want the seating to be touching the edges of the rug. In other words, avoid a too-small rug that is only large enough to put the coffee table on.
Noise dampening
Have you ever noticed how some spaces echo? Clap your hands in a tiled bathroom and you'll definitely notice it. The echo is the sound bouncing off the hard surfaces. In an open concept home with hard surface floors, like wood or laminate, this can be an issue. Rugs, being a soft surface, are a great way to solve this echo chamber problem because they absorb the sound instead of bouncing it back. That's why movie theatres and concert halls have fabric panels on the wall and ceiling – to absorb the sound and minimize echoing.
Adding colour and texture to a room
So far, we've been talking about the functional benefits of rugs. But the look of the rug is, arguably, the most important thing to consider. Choosing a rug in neutral tones will allow you to change up your room's décor without worry of clashing with the rug. With a colourful rug, you can pull colours from it to use in throw pillows, wall art, or paint colours. Or, if you already have a colourful room, you can choose a rug with complementary colours to really pull the room together.
For warmth
Unless you've got a heated blanket laid on the floor (not recommended), a rug won't add heat to a room. But it can still give a feeling of warmth. It's partly visual – a seating area clustered around a rug feels cozy. But it's also practical. If you've ever scurried barefoot over a cold kitchen floor to the mat by the sink, you know what I'm talking about. A rug feels warmer on the feet than a bare floor.
Find your new favourite rug
If you're looking for a new rug, drop by your local Paint Shop to see our selection. We offer rug binding for any of our carpets. Select stores also carry Surya rugs, with prices comparable to online retailers and the added benefit of being able to see and touch the rug before purchasing it.