The Neck Tie to Your Home's Ensemble
A colourful front door is a chance to express your personal style and an opportunity to make a great first impression. If you want to amp up your curb appeal and make a lasting impact on guests and neighbours, why not wow them with dramatic front door! With the 3500 colours in the Benjamin Moore colour preview, you'll have more than enough options to choose from.
Embrace Your Inner Style
While painting your whole house a vibrant colour may be out of the comfort zone for most homeowners, painting your front door Grape Gum, Apple Green or Exotic Red maybe just the punch of colour your home needs to stand out from the rest. Sharon Grech, Benjamin Moore Colour and Design Expert, says, "Since it's a relatively small area compared to the rest of the house, you can afford to take risks and try new colours on your front door."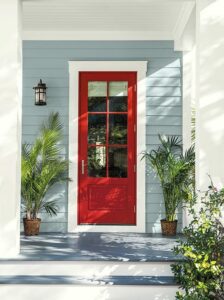 Choose a Fabulous Colour
When selecting a front door colour, it is important to consider natural light. North-facing homes tend to attract cool light, and Grech recommends counterbalancing this with warmer colours like Firenze AF-225. Conversely, for south-facing homes, the light will likely be warm and intense around noon and a mid-tone, such as Blue Echo AF-505, will look great throughout the day. Always view colour selections outside to see the actual effect of exterior lighting and to help ensure your paint looks fresh throughout the day and rich in the evening.
We have put together some colour ideas here >> Door Colour Photo Gallery
Tools You Need…
As with any paint project, following the proper prep steps is crucial, and it's essential to have the right tools on hand. The Benjamin Moore Paint Shop suggests using these project essentials when painting your front door…
Save
Save
Save
Save
Save
Save
Save
Save
Save
Project Essentials