Choosing the Perfect Pink Paint Colour
Make it Pretty in Pink
Valentine's Day can make you feel warm in the coldest month of the year, and the perfect pink paint colour can make that feeling last all year long.
Pink doesn't have to be designated to the nursery; it can work in any room in your home, even if your name is not Elle Woods. Lighter pinks are associated with love, kindness, and femininity. Hot pinks are all about passion and stimulation. Benjamin Moore offers a variety of trendy and popular pinks that you will Love in your home.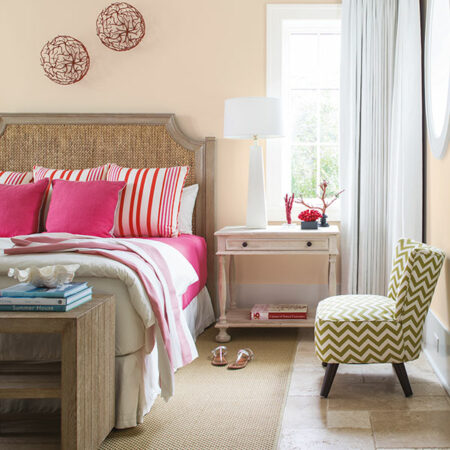 In 2020 Benjamin Moore chose First Light 2102-70 as the Colour of the Year. It was the first time a pink hue was chosen, and it was because it evokes feelings of hopefulness, a great choice to start a new decade! It is a light, airy pink that is the perfect alternative to using white or beige.
Pink is more versatile than you think. Waking up to Fruit Shake 2088-60 can set the tone for a positively productive day.
Why not paint this playful saturated pink in the bedroom or even bathroom? Mellow Pink 2094-70 is a soft colour with a touch of grey that can be elegant and whimsical.
If you want a shock of pink to liven the senses, try Hot Lips 2077-30! This colour is not for the faint of heart but if your bathroom is less than inspiring this fuchsia will wake you up and help start your day off on the right foot.
Need help choosing the perfect colour?
View our Paint Shop decorator portfolios and schedule a FREE consultation today!
Please note, digital colour representations may vary. Please be sure to consult an actual paint chip for colour accuracy, and view it at home in natural daylight and nighttime artificial light. Sample pints also available!