Rustoleum's popular glitter paint has finally made it to Canada, and to your local Paint Shop. For a dramatic effect in your home or business, choose from three finishes –  silver, gold and iridescent glitter paint – and let your sparkle shine!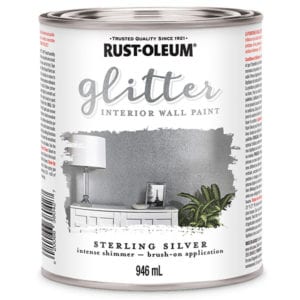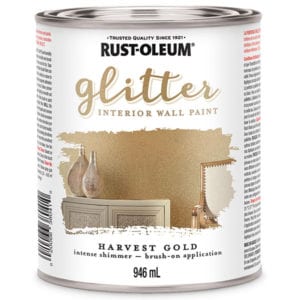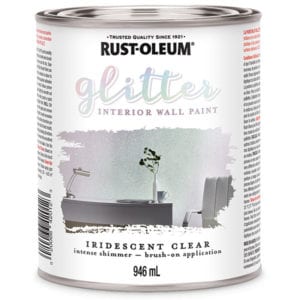 A NOTE ON COVERAGE
Each quart contains just enough to cover 30-50 square feet (or an 8' x 6' -ish space). Therefore it helps to consider this glitter paint as an accessorizing top coat, rather than a full wall finish.
While you certainly can complete a wall, be prepared for plenty of coats for fuller glitter finish. You'll want at least 3-4 coats for maximum sparkle – and since we know there's no such thing as too much glitter, you might want a few extra coats to really fill out the spaces in between.
PREP
Glitter paint is a specialty paint, so special attention to detail is a must.
Start by painting the wall/surface with a corresponding colour for a "fuller" effect. For example, pre-paint the surface in a silver or grey, if you plan to use the silver glitter. It will be more difficult to make a white or coloured background disappear between the glitter, so this will give a head start to your desired final effect. Make sure your undercoat is fully dry before layering on the glitter paint.
Silver glitter: Apply over a dried coat of grey or silver paint
Gold glitter: Apply over deep yellow or gold walls
Iridescent: Because this is a bit more like a glaze, it will add a shimmer to any accent colour you want to use underneath. Paint over an existing colour, or get creative with a new one!
APPLICATION
If rolling, use a full size (9 ½") 10mm lint-free roller (not a foam roller). A 10mm roller (vs 13mm or 15mm) has a thinner nap (or "fluffiness") and will layer the film in optimal thin coats. Roll up and down as well as side-to-side to blend glitter evenly on the wall. RECOMMENDED: SupremeCoat Roller in 10mm, pictured.
If using a brush, be sure it's a good quality synthetic (polynylon) brush. Apply each coat of paint in a different direction, alternating each coat for best results. For example: first coat vertical, second coat horizontal and repeat. Alternating brushing directions with successive coats greatly increases coverage. Use light, even strokes to ensure the smoothest finish. RECOMMENDED: Silks Nylyn Oval Handled Brush, pictured.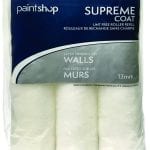 When cutting in, use a combination of brush and roller. Go as close to the edge as possible with the roller, then fill any gaps by applying paint with the brush, then rolling the paint out immediately.
IMPORTANT
Stir thoroughly to start, and every couple of minutes during application.
Use thin, even coats to build the glitter film.
The paint itself is quite thin, so be careful of runs and drips. You'll also notice its white "glue-like" nature, but don't worry. It will dry clear.
Paint will dry to the touch in 1 hour and fully dry in 2-4 hours. Allow 1-2 hours drying time between coats.
Recommended Readings
TDS: Rustoleum Glitter Interior_Wall_Paint
Roller Rules: Understanding Fluffiness