We all know that person who always has a project on the go, or the person who would rather build it than buy it, the person who feels they can do any repair or renovation around the house, once they figure out how to do it, the person who embodies the DIY spirit. And we all know this person can be sometimes be hard to shop for. To help you fill out your gift list, we've put together a few items that any DIYer would find useful. They're all available at your local Paint Shop.
A Bennett 8'x 12' 100% cotton drop sheet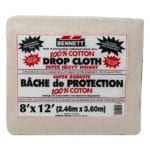 A quality drop cloth – one thick enough to protect what's under it, durable enough to last years, and big enough to be versatile – is always useful. Of course, they're great for preventing you from accidentally painting the floor, but they have many other uses, as well. You could use it to cover furniture when painting the ceiling, or put it under the couch to slide it across a room. On a rainy day, the kids can use it as a blanket fort, and on sunny days (if you've managed to keep one side paint-free) you could use it as an outdoor movie screen.
Silks oval angular trim brush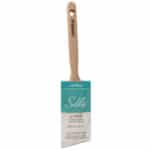 A good brush, well taken care of, can last for years. And this is a good brush. The oval bristle arrangement makes it easier to cut-in paint in corners and along the ceiling. The bristles are made from Nylyn filaments, which perform better than other synthetic paint brush bristles. The bristles are held together with epoxy for long-lasting brush life.
Cottage Paints chalk furniture paint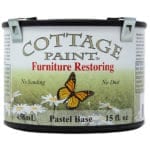 This clay and chalk based paint is great for getting that flat, velvety, vintage-inspired look that chalk paints are famous for. It distresses easily for a shabby-chic look, and comes in a wide variety of colours. If you're not sure what your favourite DIYer's favourite colour is, you can buy a tintable base and let your giftee choose their own colour.
Paint brush cover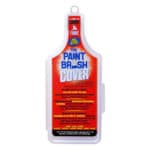 For the DIYer with a painting job in their future, this brush cover is a time saver and a brush saver. The holder clamps tight, with a foam seal around the handle opening to seal in moisture to prevent the brush from drying out between coats. This is a handy accessory for those times between coats, when you don't want to let your brush dry out, but you also aren't ready to clean it.
Handy paint pail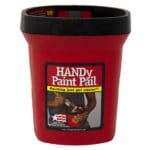 Less mess and easier paint jobs – that's the promise of the Handy Paint Pail. The pail has a hand-through grip so that you don't drop it and is small enough that it won't wear out your arm, while being large enough that you aren't constantly returning to the paint can for a refill.
Bonus idea: Gift Card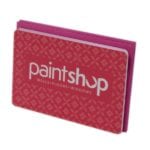 For the DIYer that already has everything, or the one you don't know what to get, there's always a gift card. Paint Shop gift cards are available in any amount and can be used to buy everything from paint rollers to flooring.